Our adventure began on July 10 morning when we left Singapore for good! We took the subway to Kranji MRT then the local bus 170 that brought us up out of Singapore and then to the entrance of Malaysia (the two are separated by a large bridge), and finally to the bus terminal of Johor Bahru in Malaysia. What a moment of emotion going through immigration in Singapore, especially when the agent put the exit stamps on our passports…! (yes, I cried!)
In Johor Bahru, we started looking for a bus to go to Malacca. Outdoors, the terminal is lined with agencies that sell tickets, but none was selling tickets for a bus to Malacca before 6.30pm (and it was 12pm…), while buses should depart every 30 minutes! We were told that all the buses were full because of the end of the holidays, and we wondered what we were going to do for six hours in the crowded terminal with our bags of 12 kilos on our back. We tried to bargain some tickets to men that were selling some at high price outside counters, but we thought it was not legal, especially when we saw policemen coming! So we went to eat and buy a sim card for internet in Malaysia and then sat on the floor outside among the people, as close as possible to buses even if it was super hot. I was a bit annoyed because we were supposed to arrive early in Malacca and spend the rest of the afternoon with our first host from couchsurfing, so I tried talking to bus drivers on board buses ready to leave for Malacca, and telling them to think of me if two seats were free when they were about to leave. The driver of the 2pm bus laughed at me when I asked him, he barely spoke English and may not have been used to this kind of request! Still, finally at 2.10pm, after shouting "Melaka" "Melaka" without any answer, he waved to me that we could take the bus. Two people were missing, so lucky us we arrived in Malacca around 6pm.
We loved discovering Malacca! The historic center may be small, we walked a lot inside and around: first in Chinatown admiring the rows of shophouses, munching Malay biscuits (husband and wife biscuits a treat!), walking in Jonker St and Harmony St (Jalan Tokong Besi) where neighbour the Chinese Cheng Hoon Teng Temple, the Kampung Kling Mosque and the Indian Kuli Poyyatha Sri Vinayagar Moorthi Temple.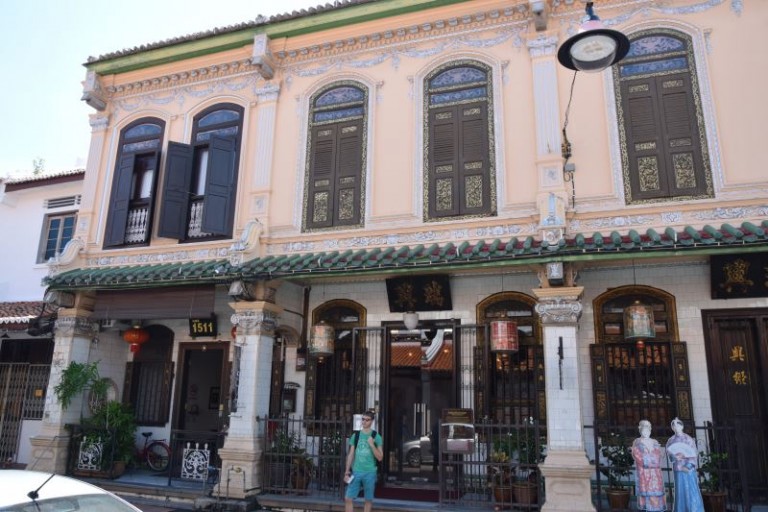 For lunch, you have to try the chicken and rice balls (rice balls) from Hoe Kee Chicken Rice, and the Cendol from No. 1 Kopitiam across the street! The chicken rice is the specialty of Singapore but I have to admit that the chicken rice balls was even more tasty!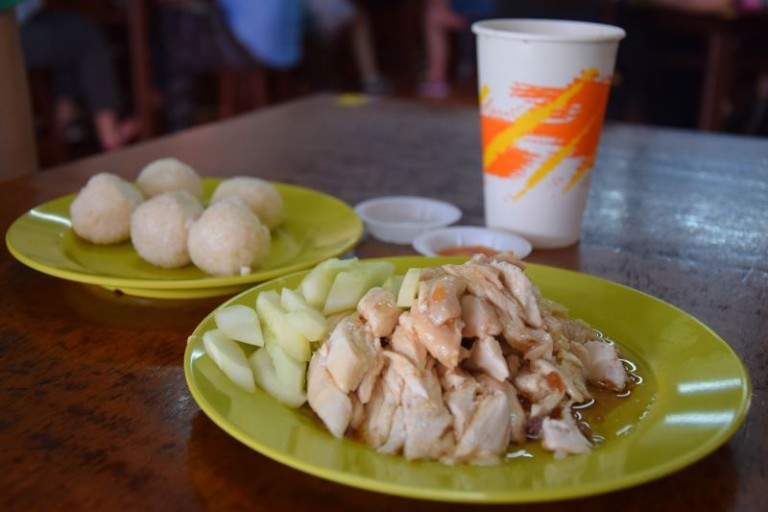 Malacca is also known for the Red Square, a square with red buildings from the Dutch era. From the square, you can climb a small hill to reach the ruins of St Paul's Cathedral overlooking the city. The view of the sea and the Strait of Malacca is very nice! We rested there a few hours in the cool grass before going down and walk along the Malacca River enjoying a coconut shake.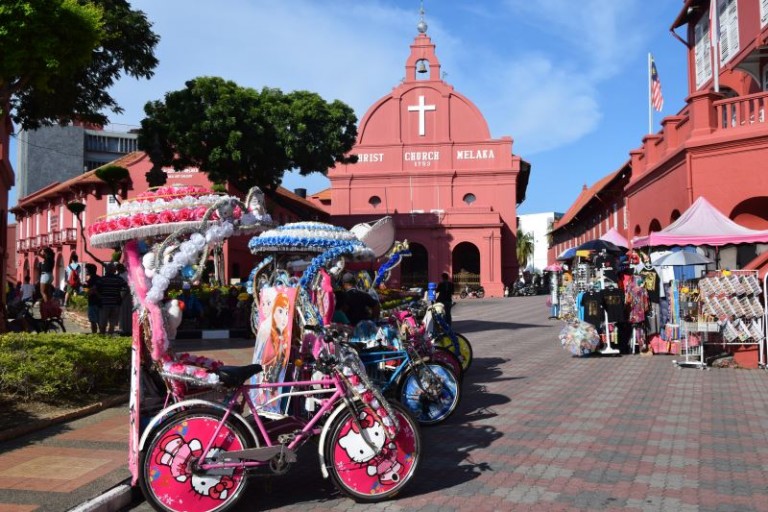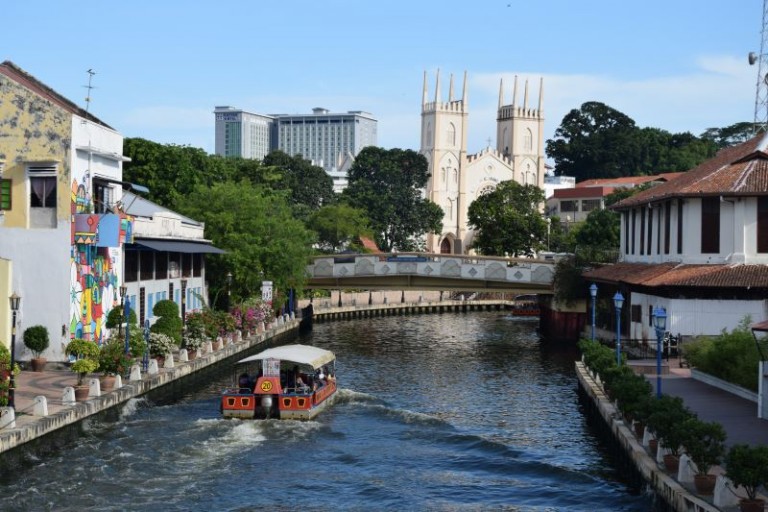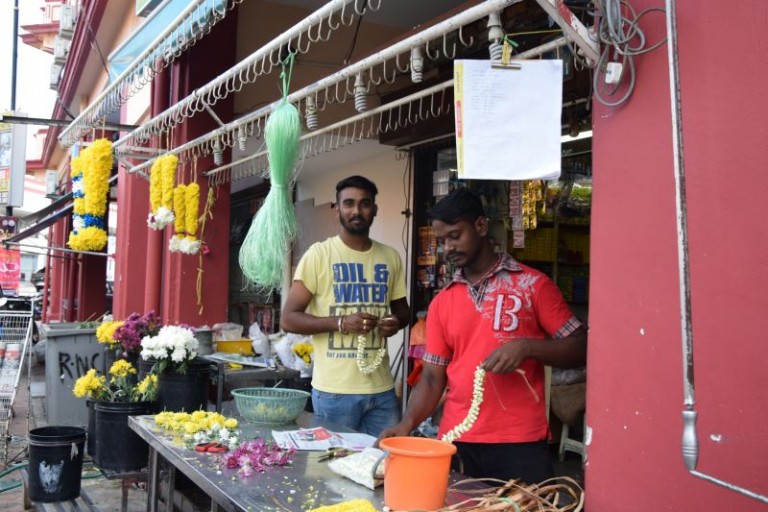 Finally, in Malacca we met a great man who hosted us for 2 nights with his family. He is a Malaysian with Indian origins, and he gave us details about politics and the education system in Malaysia. Malaysia is a Muslim country with 28 million people of which 65% are Malays, 25% are Chinese, 5% are Indian, and the rest comes from other ethnies. Islam is the official religion, but other religions are practised freely. However, the Malaysian constitution strictly defines what makes a "Malay", considering Malays those who are Muslim, speak Malay regularly, practise Malay customs, and have ancestors born in Malaysia before independence (1957). Malay people are favored by the country's politics, to the detriment of the other ethnies like Indian and Chinese who also have the Malaysian nationality… For instance, Malay people have advantages when buying a property, they have permits for some trades and businesses that others do not have, Malay students are favored to get scholarships and to have places at the university which makes the system based on origin and not merit… We also ran into a Sikh who told us about India and also said that life was less easy for Malaysian people who are not Malay. We hope to meet Malay people to have their opinion on this topic! One thing to note is that in the Malaysian law, there is an interdiction to talk about or question these advantages (Sedition Act). It is also interesting to remind that Malaysia ranks 146 out of 180 countries concerning the freedom of press (Singapore rank is even worst at 154 and France is only at 45), which is something you do not feel when you are on holidays there.
Actually, when you go deeper onto this topic, these advantages were written in the Constitution of Malaysia (Article 153) back in 1957, after the independence from the British. Article 153 was written to protect Malays from the immigration of Chinese and Indian workers who had started to dominate economy. Indeed Chinese and Indian were generally rich and living in cities, whilst Malays were mostly poor farmers because of discrimination during the colonisation. Article 153 was initially drafted to be a 15-year temporary measure to balance the situation of Malays and non-Malays, but ended to be a permanent one. Today, 60 years later, such a measure has the consequences of developping frustration for non-Malays who are not encouraged to stay in Malaysia (our host has planned to go living in Australia so that his children do not undergo what he has undergone), and from our point of view within the Malay population it does not promote meritocracy as they do not have to fight for scholarships or for businesses. Hence the country may not be as competitive as it could be, with 65% of the population lying on their assets instead of trying to head for success.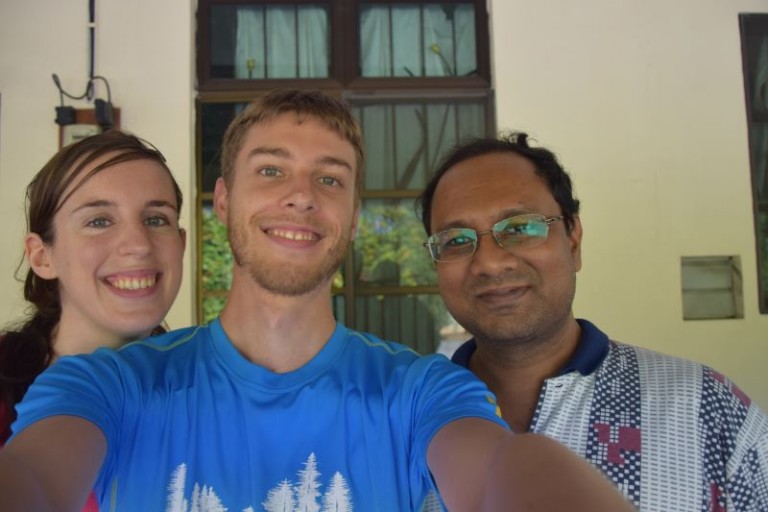 On July 13th we left Malacca by bus to head to Kuala Lumpur, capital of Malaysia!
To go further: