From Bac Ha, we went back to Lao Cai to take the train to Hanoi. We did 200 km in 9 hours…! But I guess it was more comfortable than being moved from one side to another in the bus driving fast through mountain road, and anyway, we love trains! We were also so excited to come back to Hanoi, one of our favorite city (not to say the one) in Southeast Asia!
We arrived in Hanoi at night and happily met again our friends Clément and Vanessa, met in Laos! We had promised to see each other again, as from Muang Ngoi they were heading South and we were heading North, but both with the objective to go to Hanoi. We met them at a great hostel in the middle of the old quarter, the amazing Hanoi Traveller Hostel, which would become our home for a week.
Together with Clément and Vanessa we enjoyed street food, based on the memories Alex and I had from the street food tour we had done three years ago! To sum up: lots of Bun Cha (noodles with grilled pork)…
egg coffee, a delicious Vietnamese coffee with a creamy beaten yolk mixed with honey (check out this video to make yours, they use our favorite Vietnamese coffee Trung Nguyen Creative Ground Coffee!), we also tried egg chocolate with rhum and even egg and beer, sweet and bitter at the same time!…
Bun Ca (soup with crunchy fish, tomato, noodles and a lot of fresh dill)…
Banh Cuohn (rice rolls filled with pork and mushrooms)…
green sticky rice ice cream…
(ouch I don't have any picture of this one! It was melting so fast in Hanoi heat that there is no time for a picture!)
and Obama Bun Cha! Yes, we have a specific relationship with Obama since Laos, where we crossed his path in Luang Prabang. In Hanoi, we visited the restaurant where Obama ate a Bun Cha last time he came to Vietnam! For those who do not know, Alex is crazy about Bun Cha since he discovered it three years ago. He was dying to eat the same Bun Cha as Obama so we fulfilled his dream!! (several times) And it was indeed the best Bun Cha in Hanoi!
Check this amazing similarity (thanks a lot to Clément in the role of the bodyguard!):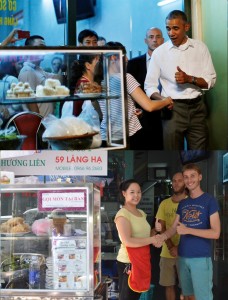 Apart from eating (which I have to admit is the major activity in Hanoi), we walked around the city, enjoying local life. Around our hostel we could find streets devoted to specific activities: the corporations' streets, with a street for shoe sellers, a street for tombstones, a street for meat sellers, a street for toys, a street with bookshops selling all the same books… Very different atmospheres! We love Hanoi so much for its street life! In Hanoi you get an haircut in the street, food is prepared just by the road, next to the traffic jams…
On weekends, the area around Hanoi lake is closed to vehicules and Vietnamese families and students gather to have fun. They play at pulling rope, skipping rope, checkmates drawn directly on the road with a chalk… There are also a night market, concerts, all of these in a very friendly atmosphere. Students are hired by Hanoi city to organize the games, and they came to talk to us to know what we thought about these activities.
Our main mission in Hanoi was to get our Chinese visa, which was the most difficult task since the beginning of our trip… We prepared carefully our application, planning all our visits day by day, booking hotels, even preparing a booking for plane tickets. All these documents are required to get the visa, but after booking hotels you can easily cancel your booking, and once in China you are free not to follow your itinerary. As for the plane tickets, you know that we do not take the plane… so we faked a booking thanks to Photoshop! After having produced and gathered all the documents, also including bank account statements, scans of our previous passports with our previous Chinese visas, the copy of our wedding certificate because I have taken my spouse name on the new one… so after having gathered these documents, we needed to print them! The tricky part is that in Hanoi you have "Photocopy" shops with big printing machines, but when you show them your USB key, they run away, shaking their heads. You have also travel agencies but the one we visited could only print pages by putting paper in the printer one by one. With 50 pages to print, we decided to look for another option. After one hour of running around Hanoi, we ended up in a hotel just next to our hostel, where the lovely staff at the reception printed all our documents with a big smile. After a day of preparation, our application was ready!
The next day we headed to the Chinese Embassy. It was full of people, no organization, the body guard checking the bags was also the one giving application forms and managing the queue, nobody knew where to go… After few minutes spent in front of a counter, a Chinese woman took our application, just to tell us that we would never get 45 days in China (usually it is 30 days, but we wanted to try asking for more) and that we would never get our visa for the 7th of October. What??? On the internet, they say they need 4 working days to process the application and we were on the 27th of September… That was without knowing that the embassy was closed for one full week because of public holidays in China! And without any other explanation, the lady at the counter told us to come back the day after to check our application and that if accepted we would only get the visa on the 11th. She did not seem to care that our (fake) plane booking was on the 7th, and all our hotels were planned from this date. She just told us to come back the day after and closed the conversation without any more explanation… We were a bit down after this, not knowing if we would get our visa (she was not very nice and the 45 days could be an issue) and planning how it would go if we had to wait more or ask for a new one (with our Vietnamese visa expiring on October 14th… bad situation).
The next day we came back to the embassy and they only gave us a pink sheet asking us to pay at the China Bank the sum of 30 USD /pers. for our visas. It looked like it was ok, but nobody told us our application was really approved. Anyway the pink sheet was also telling us to come back one week later at the embassy (after the holidays!). We had one week to spend in Vietnam so we quickly decided to make a detour South of Hanoi and go to the city of Hoi An that had been recommended to us by friends! It's 18 hours away by bus, but anyway we are here to travel and discover, so let's go to Hoi An!