The title of this article may be impressive, but actually at the latitude of the road we took to cross Thailand, the country only lengths about 40 kilometers!
But first let's go back to Ranong where we arrived under the rain, after a week on the Andaman Coast. Tired about the rain and too many tourists amongst the coast, we found a welcoming room at Kiwi Orchid Guesthouse. Two sisters and their family manage the place which offer rooms with very good value for money. One of the sisters is an amazing cook. Her Pad Thai (noodles with vegetables) and her Tom Kha Gai (the chicken and coconut soup) where delicious!
It was raining and we needed to feel at home, so we stayed a few more days than expected in this guesthouse. Once the sun was coming out, we would jump on our motorbike to visit the region through moutain roads: we visited Ranong Canyon and the Hat Som Paen Reservoir. When you think about what a canyon is, you will be fairly disappointed by Ranong Canyon which is just a small lake…
However, the reservoir offered much nicer views than expected!
But the highlight of Ranong is its hot pools. For free, you can bath in the pools, healing yourself from a long motorbike ride ! Pools have a temperature up to 43°C, cooled down from the main natural source which is 65°C! The place was packed when we went as the sun was setting, but there were no tourists at all. Thai people bath without taking off their clothes, which was a bit weird for us…
One afternoon, we finally left Ranong to follow the road to the North and then East. We went across Kra Isthmus, the point at the border of southern Thailand and Myanmar where Malaysian peninsula is the narrowest. Here Thailand and Myanmar are only separated by a small river.
It was the end of our discovery of the Andaman Coast and we headed to Chumphon on the other side. And then no more rain!
We did a quick one night stop in Chumphon in which we found little interest, except that we discovered at the night market a Thai delicacy called Khanom Buang!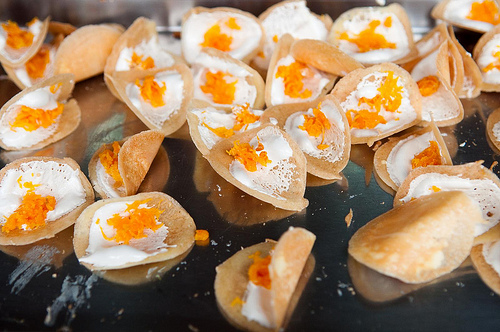 Doesn't it look like a cracker with mayo and shredded carrots? No ! It is actually a thin crepe, pan fried with a mix of egg and sugar and topped with shredded egg yolk or coconut ! It has the taste of a smooth meringue!
Next step on the road: Prachuap Khiri Khan! But before we needed to fix our brakes, which end up in a real quest as nobody was speaking English! But Thai people helped us one by one to end up in this motorbike shop who helped us add some brake fluid in the motorbike.